Overview

In 2007, the U.S. Department of Transportation selected Interstate 15 in the greater Las Vegas Valley as a "Corridor of the Future" recognizing the corridor was critical to the mobility of the community and essential to economic development. About 92 percent of Southern Nevada's goods arrive via commercial trucks, most of which use I-15.

At that time, the Nevada Department of Transportation (NDOT) embarked on several projects to widen and enhance I-15 between Craig Road and Speedway Boulevard, including the new Garnet Interchange at US 93 and an interchange at Clark County 215 in North Las Vegas, scheduled to open at the end of 2022.

The $71.5 million I-15 North Phase 3 project, slated to break ground in Summer 2022, includes widening I-15 from two lanes in each direction to three between Speedway Boulevard and the Garnet Interchange. The work along an 11-mile stretch of the freeway consists not only of widening I-15, but bridge rehabilitation, commercial truck parking improvements and enhanced landscaping and aesthetics.

Existing Roadway Conditions
Currently, on I-15 between Speedway Boulevard and Garnet Interchange, there are two 12-foot travel lanes, with a 10-foot outside shoulder and a 4-foot inside shoulder both northbound and southbound.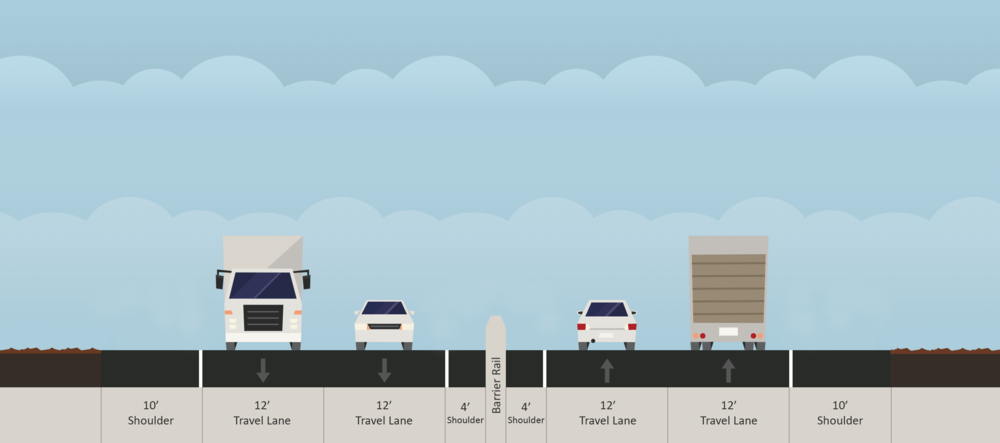 Future Roadway Conditions
When construction is complete, I-15 between Speedway Boulevard and Garnet Interchange will feature three 12-foot travel lanes, with 12-foot inside and outside shoulders, both northbound and southbound. Roadway widening will be done in the existing median.

Project Improvements
• Widening of approximately 10.7 miles of I-15 from four to six lanes from the Speedway Boulevard Interchange to the Garnet Interchange (resulting in 3 general purpose lanes in each direction)

• Bridge rehabilitation and widening

• Addition of mainline Weigh-in Motion (will capture and record vehicle weights as they drive over a sensor)

• Drainage improvements

• Addition of a highway maintenance facility

• Landscape enhancements

• Improvements to truck parking lots

A proposed new interchange between Speedway and Apex was also included in the environmental process so that it may be constructed in the future if desired. However, that interchange is not currently included in the construction plans for Phase 3.
Project Benefits
• Enhance access to and mobility near future North Las Vegas developments

• Increase safety and efficiency for commercial truck operators

• Improve travel time reliability along the I-15 corridor
Project Schedule
Construction of the I-15 North Phase 3 project is anticipated to start in June 2022, and last for approximately two years.
2019-2021
Environmental Phase